Experiential Work
9/11 MEMORIAL MUSEUM, HISTORICAL EXHIBITION: Researched and edited the video/audio installations in the "Events of the Day" exhibition.
Produced by design firm, Local Projects. More Information: https://www.911memorial.org/historical-exhibition
TURN ME ON/OFF: Co-conceived and co-created an interactive window display controlled by passers by. They control the light bulbs by tapping a digital image of an oversized light switch (via micro-controller and vibration sensor). Displayed in a NYU window on the corner of Waverly Place and Broadway, NYC.
Produced at ITP with Matt Richardson and K. Till-Landry.
IN SIGHT ON SITE: Conceived and designed an augmented reality app for video endorsements in situ. Above, is a video of Michele Obama delivering an endorsement for The Lower Eastside Girls Club. The video is triggered by a strategically placed QR code in the physical space, and overlaid upon a live image of the room (seen through a mobile device's camera).
Presented at ITP.
SLIDESHOW REVISITED | FATHER FOCUS: Conceived, designed, and created an interactive homage to my late father, Max Ted Zell (1927-1989), the first person to export Minolta cameras out of Japan. Viewers advance a (hacked) carousel slide projector and are surprised to see the "slides" move. They are not slides, but rather animations of photographs documenting the advent of Japanese consumer cameras.
Produced at ITP.
MONSTER MIRROR: Conceived, designed, and co-created an interactive out-of-home experience appearing to be a vintage Hollywood-style dressing mirror. When approached, it replaces the viewer's face with a curated set of ghoulish images. Above, a vampire's face is overlaid upon a young woman's, looking at a window display on Mercer and W. 3rd Streets, NYC.
Produced at ITP with Allison Berman. Custom software built upon the work of Jason Saragih and Kyle MacDonald, with technical support from Johnny Lu and Matthew Parker.
EAT YOU UP: Co-conceived and created an edible video sculpture exploring the intimacy of video. Children are projected onto vessels of jello from underneath – spoons nearby invite viewers to taste. Inspired by Goya's Saturn Eating His Children.
Produced at ITP with Mira Stroika.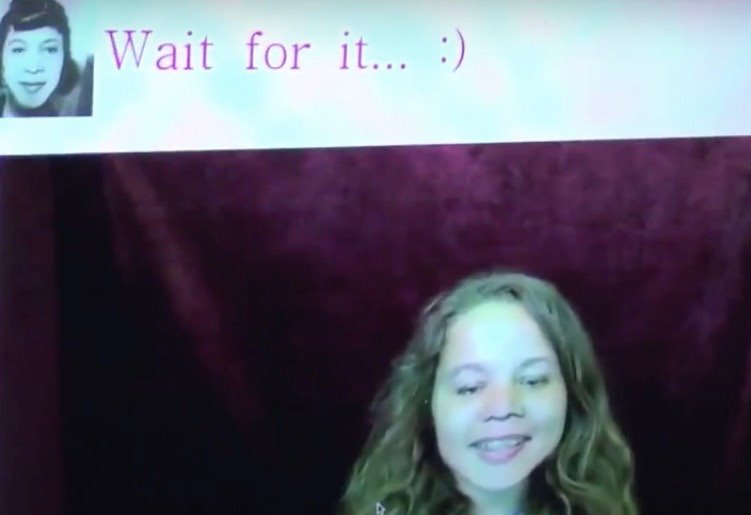 WHO BOOTH: Conceived, designed, and created an interactive booth where girls map their aspirations to inspirational women throughout history. An "aspirations menu" asks "what do you want to be?" and the user's choice unlocks a role play experience with sound, video, interactive signatures, and face substitution. The girls can share their experience on video or a printed postcard. Above, Zora Neale Hurston's face is overlaid upon an eleven year old girl's.
Proof of concept produced as an ITP thesis.